T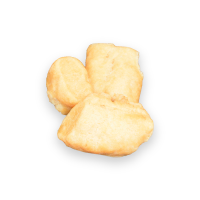 he Tarallificio Mastromatteo of Palo del Colle deals with the production of bakery products and in particular the "tarallo", a typical regional product from Puglia since 2007. The success due to the high qualitative and innovative content led the Tarallificio Mastromatteo to a period of strong rise.
The key to the company's success lies not only in the scrupulous and careful selection of high-quality raw materials, in the still-artisan production methods and strictly "by hand", in the "boiling" of the tarallo that makes it even lighter for a correct and healthy eating, in exceptionally short delivery times that allow us to offer a product that is always fragrant and with a high quality standard but also in the professionalism and dedication of the top management, employees and collaborators.
Finally, thanks to the experience gained in the sector of bakery products, today the Tarallificio Mastromatteo is a leader on the national and foreign market with products tailored to the needs of customers, offering reliability and high quality at the right price.